How to delete a reddit account on phone: With increasing screen time and constant mental health disturbances caused by social media deleting their reddit account. For giving priority to your mental health, it is good to remove the reddit account especially in case of not being able to remember how much personal information is out there from your profile.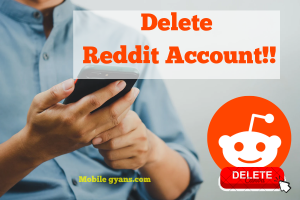 It is important to give attention that after eating your edit account permanently, you cannot access or recover it. delete a reddit account on phone If you are fine with the fact of not being able to recover then continue reading his post to find out steps on how to delete your Reddit account. 
Quick Steps to delete reddit account permanently: 
Open reddit on web> Tap on your profile picture> Tap on user settings>Scroll down>Tap on delete account> Enter correct password & username>Tick the box>Press & click Delete
How to delete a reddit account on phone, web browser, Android & iphone 
Open Reddit account on your device in browser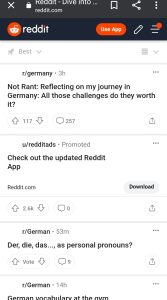 Then you have to search for your profile picture on the top right corner of the screen. Click on that option

From a drop down menu, multiple options such as online status, profile, Style, User settings, dark mode etc. Click on the "User Settings" option.  
Wait for a few seconds to proceed. Then a Screen will come up with Options such as connected account, delete account, etc. delete a reddit account on phone scroll down below and you will find a red button with the "Delete account" option on the bottom right corner.
A pop up will come on your screen asking you to enter User name & password to continue. delete a reddit account on phone Then you have to check the box with written text, "I understand that deleted accounts aren't accessible". 

Press delete button. Then a confirmation pop up will be visible on your screen about deleting your Reddit account permanently. Click on 'Delete' again to complete the process. 
Voila you have erased Reddit account data & history permanently!! 
How to delete reddit community
Joining & deleting the reddit community is like trying to make paper back from ashes of burnt paper. It is disheartening to tell that after you join a community on reddit, there is no way back to delete it. delete a reddit account on phone The ease of process of deleting a reddit account and deleting a Reddit community are poles apart.
Also read : How to delete snapchat ai
Certainly there is a way which is similar to by partially deleting a subreddit or reddit community. delete a reddit account on phone You can set the Reddit community to private and then leave it as a Mod. By this process you will be removed from the Reddit community list even though you are the one who created it. Also setting it as mod will make it impossible to join anyone new without an invitation link. 
Quick steps to set Reddit community as private
Go to your reddit community

Tap of shield shape button with Mod Tools written aside it

A menu will open on the left

Scroll below until you find "Community Settings" under "Other" section

Click on community setting

Make sure to reach at on the left menu that community tab is mentioned

Scroll below to reach "Type of community" 

Click on empty circle next to return Private 

This option will make sure that only approved user can view or submit this community

Tap on Save Changes
Set Reddit Community As MOD 
Go to reddit community or subreddit

Scroll down to reach MODERATOR option on right menu

Tap on "View All Moderator" 

On top right corner you will find two options: leave as MOD and Invite User as MOD 

Click on the first option of "Leave as mod"

Final warning will pop up on your screen. Tap on "Leave" button
What is Reddit Karma and its benefits 
Reddit karma simply means points gained from upvotes by engaging on the Reddit app through posting, commenting, giving and receiving awards. delete a reddit account on phone It indicates the impact of your contribution in the Reddit community. 
For posting on some Reddit community or subreddits, karma is required. r/AskReddit, r/aww, r/funny, r/NewToReddit, etc. delete a reddit account on phone Aman popular reddit which can help you to gain karma on reddit in great numbers. 
Ways to get different types of Reddit Karma
Post Karma Getting upvote by creating a post or sharing external link.
Award Giving Karma:By giving awards to comments & posts on reddit, your "Award giving karma increases.
Comment Karma: By posting comment on already existing posts & receiving upvotes on it.
Award receiving Karma: When you get awards on your comments or posts, you increase "Award Receiving" karma.
How to delete Reddit account on app 
One of the most common query that I came across regarding erasing reddit accounts is can I delete my Reddit account on the app? 
Yes you can delete Reddit account permanently on the app through steps given below: 
Go to the user setting on the reddit present at the top right corner of the screen. Tap on "User Setting" 

Scroll down the page and click on the red option on the screen with written text "Deactivate Account". 

Finally click on the deactivate button and confirm your decision by clicking on "deactive" again.
Will my post & comments remove after deactivating reddit account
Unfortunately, deactivating your Reddit account will not remove posts and comments for private messages. delete a reddit account on phone You can read detailed information about deleting posts and comment on Reddit before activating your Reddit account through the official website.
How can I maintain privacy on Reddit before deleting my account?
To enhance your privacy on Reddit before deleting, consider: Reviewing and deleting past posts and comments, disassociating your email address from your Reddit account and removing any personal information from your profile.
How to reactivate reddit account after deleting 
After following the process of deleting a reddit account permanently, a deactivation period of 30 days is given to reactivate the credit account after deleting. delete a reddit account on phone You have to simply use your previous credential to login within 30 days otherwise it will be deleted permanently.
What will happen to my posts and comments after deleting Reddit 
Once you finally delete your account, none of your posts and comments will be deleted but it will be disassociated with your account. delete a reddit account on phone It simply means, all your content in form of post and comments will stay on reddit with [deleted] written in front of it so nobody can trace who has written that.
Disclaimer: We cannot guarantee that the information on this website is completely correct. Because our website "Mobile Gyans" strives to keep up with the latest mobile news.