No.1 youtuber Of Ballia , Abhishek Shah is a popular youtuber and Blogger/ Vlogger from Ballia, Uttar Pradesh, India. Abhishek Shah age is 18 years old and he was born on 15 April 2004 in Ballia. Abhishek Shah is famous for his youtube videos.
He is sharing tech news and mobile related news on his youtube channel. He has more than 100k subscribers on Mobile Gyans YouTube channel. Abhishek Shah is handling 2 YouTube channels, first one is Mobile Gyans, second one is Yt GYans.
No.1 youtuber Of Ballia
Abhishek Shah was born and brought up in the small village of Ballia. His family was very poor and his father was a common driver. Abhishek Shah is inspired by a big Tech youtuber (Manoj Dey Youtube Channel).
After watching Manoj De Sir's videos he decided to make his own youtube channel and he started his first youtube channel on 24 Nov 2020 and now he is inspiring many aspiring youtube creators.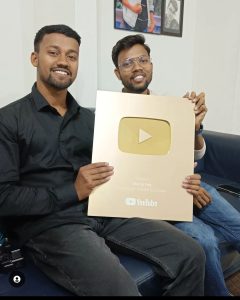 Abhishek Shah Family & Education:
Abhishek Shah is very famous on social media. Abhishek's family consists of his parents and a brother and a sister. His father is an auto driver. He lived in Ballia city of Uttar Pradesh state.
Abhishek has completed his studies from government school. Abhishek completed his graduation after intermediate. Then after that they started preparing for Government Jobs.
Abhishek Shah Youtube Career:
Today is the era of internet all over the world, due to which people are earning lakhs of rupees sitting at home. Similarly, Youtube is such a social media platform, where you can earn lakhs of rupees a month through your skills.
Abhishek Shah Youtuber
Similarly, Abhishek Shah, a resident of Ballia city of Uttar Pradesh state, has achieved a lot of success in Youtube career. He was born in a poor family and after completing his primary studies, Abhishek wanted to do B.Tech.
But due to lack of money at home, Abhishek did not do Diploma and B.Tech. Then Abhishek started working online. Where he used to get 1200 rupees a month.
In conclusion,
Abhishek Shah is a multi-talented person. He is Rapper, Blogger & Popular Youtuber Many young individuals who desire to follow their aspirations are inspired by his story.
Also read : 5 Ways To Make Passive Income Up To $1000
Disclaimer: We cannot guarantee that the information on this website is completely correct. Because our website "Mobile Gyans" strives to keep up with the latest mobile news.
Abhishek shah is the Founder & Author of Mobile Gyans. He does try to assist our visitors by providing full specifications and price ideas.
Abhishek shah also Working on YouTube.
Mobile Gyans – 50k ( YouTube Family )