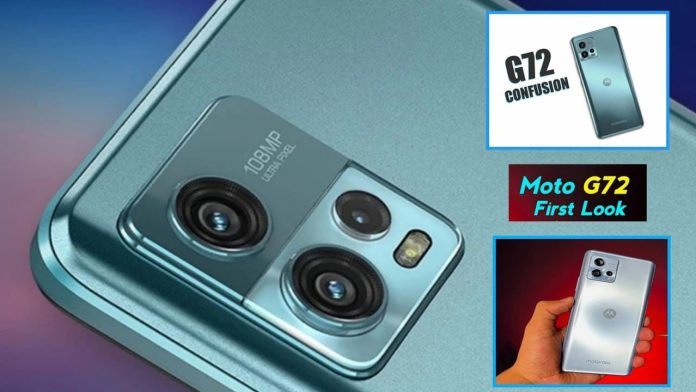 Motorola G72 Review With Pros And Cons, Given the debut of 5G in India and the fact that it would be accessible nationwide by the end of 2023, it is a little difficult to offer 4G smartphones at Rs 18999.
| | |
| --- | --- |
| Name | Motorola G72 |
| Release Date | 12 Oct, 2022 |
| Price | $233 USD |
| Ram/Rom | 6GB/128GB Up to 1TB Expand  |
| Battery🔋Capacity | 5000mAh |
Nevertheless, the Motorola G72 has good specifications other than its 5G connectivity, so let's find out in this review if you should buy it or not.
Motorola G72 Pros And Cons
| | |
| --- | --- |
| PROS | CONS |
| Beautiful Design | Card Slot – No |
| Experience using only stock Android | Water Resistance – No |
| Bright pOLED display with 1300 nits | Java – No |
| There are no ads in the user interface | Plastic Build |
| 3.5mm Jack | Only 1 Year Os Update |
| 120Hz Refresh Rate | Lacks 5G Connectivity |
| Stereo Speaker | Night photography requires work |
| Lightweight Build | Not the ideal choice for intense gaming |
| 33W Fast Turbo Charging | In low light, an ultra-wide lens doesn't provide decent pictures. |
Motorola G72 Review
Yes, the Motorola G72 is a worthwhile purchase, but not everyone will find it suitable given that it costs Rs 18999, which is too much for a 4G smartphone in this market. Although it's a fantastic smartphone for everyday use, it's not designed for intense gaming.
This indicates that getting a 5G smartphone is preferable if you wanted to utilise 5G connection and you planned to retain the phone for more than two or three years, but the Moto G72 is an option if you don't care about 5G.
Motorola G72 Price in India
The Motorola G72 costs Rs 18,999 in India and comes in Polar Blue and Meteorite Black hues. It has 6GB of RAM and 128GB of storage. It will be accessible starting at noon on October 12, 2022, through Flipkart.
Motorola G72 Display
The 6.55-inch pOLED screen on the Motorola G72 has a resolution of 1080 x 2460 pixels and a maximum brightness of 1300 nits. Additionally, it offers a 120Hz screen refresh rate and a 576Hz touch sampling rate.
Since the display is HDR10+ and 10-bit certified, viewing movies or playing video games will result in vibrant colours.
The rear and frame are composed of plastic, while the front is covered by Corning Gorilla Glass 3. Because the rear is shiny, a fingerprint will be left.
By the way, the Moto G72's 1300 nits brightness will be really helpful while using it outside; you won't have any issues at all when reading text or viewing YouTube videos.
Motorola G72 Camera
The Motorola G72 has a 16MP front-facing camera with a 108MP main sensor, an 8MP ultra-wide lens, and a 2MP macro sensor.
While the front camera can only record video at [email protected], the back camera can record at [email protected]/60fps.
The videos do appear excellent in ideal lighting, but in low lighting, the sensor suffers greatly, produces a lot of noise, and the movies don't look good at all as a result.
It reminds me of a $10,000 smartphone.
Additionally, since there is no OIS, the video may appear unsteady; some aid is provided by the EIS.
I'm referring about the 108MP main sensor. Motorola G72 Review With Pros And Cons
It more closely resembles the 8MP sensor photographs than the 108MP look-alike photos. When shooting pictures in the sun now, the pictures do turn out well; the details are present, the dynamic range is fine, and the colours aren't overdone. Motorola G72 Review With Pros And Cons
When we capture photographs in low light, the same thing doesn't occur. Motorola has to address the low light photography issue because it affects the majority of their affordable smartphones, not just this one.
The 8MP Ultra-Wide is next. Motorola G72 Review With Pros And Cons
Even in decent lighting, it adds too much noise, tries to oversaturate colours, and feels more gimmicky than a 108MP main sensor. The good news is that the dynamic range problem is absent. Motorola G72 Review With Pros And Cons
Motorola G72 Review With Pros And Cons
One thing, always utilise the primary sensor at night instead of attempting to use the ultra-wide lens.
Let's move on to the front camera because that 2MP sensor was added for display.
You will appreciate the colours since Motorola has introduced more white hues, and the 16MP selfie camera produces beautiful shots in good lighting. Motorola G72 Review With Pros And Cons
The same is being done by Motorola, OPPO, Vivo, and RealMe. This makes more sense now that people prefer to add filters, and Motorola is saying why bother when we can just add the white filter with the sensor.
In conclusion, both the camera and the pricing might have been better.
Motorola G72 Processor
The MediaTek Helio G99 was recently introduced in the POCO M5, which costs only Rs. 12,499, while Motorola added the same chipset to the Moto G72, which costs Rs. 18,999. Motorola G72 Review With Pros And Cons
Therefore, Motorola should have chosen a 5G chipset since by the end of the next year, 5G would be accessible nationwide in India.
We all know that the majority of Indian smartphone owners maintain their devices for more than two or three years, thus in my opinion, when a user spends more than Rs. 15,000, he or she should get a 5G smartphone because 5G is already here and will soon be accessible to everyone. Motorola G72 Review With Pros And Cons
Returning to the chipset
An improved version of the Helio G96 is the MediaTek Helio G99 SoC. The SoC should now have better battery life thanks to Mediatek's upgraded CPU, while the GPU has also seen some minor improvements.
For a smartphone costing Rs 18,999, you would only be able to play games like COD Mobile and BGMI Mobile at a frame rate of 40.
Again, using a smartphone in daily life won't cause any problems, but if you play demanding games for hours on end, the device will become heated and occasionally experience frame drops. Motorola G72 Review With Pros And Cons
The MediaTek Helio G99 is the best option Motorola G72 Review With Pros And Cons if you're a typical user who only uses social media, watches movies, and watches YouTube videos.
Motorola has guaranteed one year of OS upgrades and two years of security patches for the smartphone, which is powered by Android 12 and built on MyUX 3.0. Both advertisements and bloatware are absent.
This is a major issue since, in contrast to the majority of smartphone manufacturers, Motorola is only providing one year's worth of OS upgrades, which is completely unacceptable.
Motorola G72 Battery
The Motorola G72 comes with a charger. It features a 5,000 mAh battery and supports 33W rapid charging. Motorola G72 Review With Pros And Cons
Because of the MediaTek Helio G99 chipset, the battery will last for a very long period; if you're a heavy user, you'll need to charge the smartphone between 8 and 9 PM, but if you're a typical user, the battery will easily last for a day. Motorola G72 Review With Pros And Cons
In conclusion, you will be pleased with the battery life and may use the 33W charger as necessary.
Motorola G72 Audio
A smartphone will have everything else even without 5G. Motorola G72 Review With Pros And Cons
Having said that, the gadget does have a stereo speaker and a 3.5mm audio port. When the smartphone is not receiving enough single, there is also carrier aggregation, which can aid. Motorola G72 Review With Pros And Cons
You will be pleased with the audio and call quality because the speakers are loud and even clear.
Also read : Business ideas in hindi
Disclaimer: We cannot guarantee that the information on this website is completely correct. Because our website "Mobile Gyans" strives to keep up with the latest mobile news.