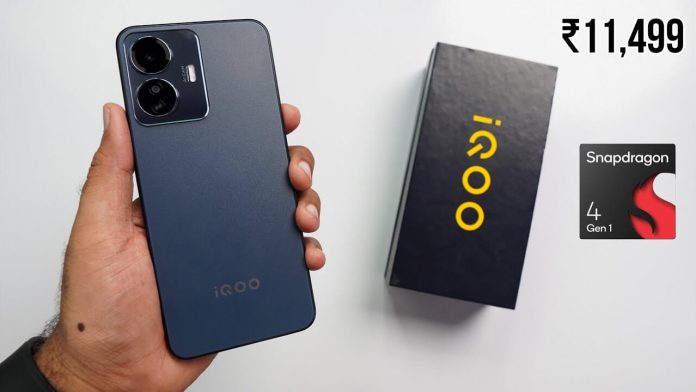 I give you the world's first Snapdragon 4 Gen 1 smartphone, which is 15% faster in terms of CPU and 10% faster in terms of GPU than Snapdragon 480+. This CPU, which supports 5G, is found in practically all smartphones priced under Rs. 15,000.
| | |
| --- | --- |
| Name | IQOO Z6 Lite 5G |
| Release Date | 14 September 2022 |
| Price | $123 USD |
| Ram/Rom | 4GB+64GB & 6GB & 128GB |
| Battery🔋Capacity | 5000 mAh |
IQOO Z6 Lite 5G Price in India
Price for the 4GB RAM and 64GB storage edition of the iQOO Z6 Lite 5G starts at Rs 13,999, while the 6GB RAM and 128GB storage variant costs Rs 15,499. At noon on September 14, 2022, Amazon will begin selling the item.
IQOO Z6 Lite 5G Review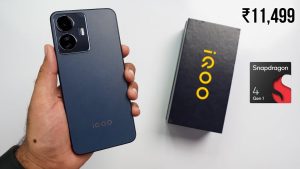 The iQOO Z6 Lite 5G is not suitable for everyone since, aside from its potent processor and 5G compatibility, it is an ordinary smartphone with middling cameras, just 18W charging support, a plastic build, two 5G Bands, and a tonne of bloatware. However, it's a decent purchase for Rs 13999.
It just contains the n77 and n78 5G bands, which are more than adequate for urban areas to have 5G connection.
You will be delighted with the performance of Qualcomm's new Snapdragon 4 Gen 1 CPU, which is by far the finest one available. It performs well in both gaming and battery life.
The iQOO Z6 Lite 5G's cameras are its weakest component, and since this is a low-cost smartphone, it's disheartening that iQOO didn't even provide a charger in the package.
However, despite the single speaker's poor sound quality, it does offer a 3.5mm audio port.
In conclusion, the iQOO Z6 Lite 5G is a solid choice for people seeking for a cheap 5G smartphone who don't give a lot of thought to the cameras and build quality.
IQOO Z6 Lite 5G Pros & Cons
| | |
| --- | --- |
| PROS | CONS |
| 120Hz Refresh rate | LCD Display |
| 3.5mm Audio jack | Average Cameras |
| Carrier Aggregation Support  | Full Bloatware |
| 2 Year Os Update | NO Ultra wide Lens |
| Powerful Snapdragon 4 Gen 1 Soc | Night mode Available only 6GB Variant |
| Wide Vine L1 Support | Plastic Build |
| Long lasting Battery Life | Old Water Drop Notch |
| | No Charger in Box |
| | Only 18W Charging Support |
Also read: Smartwatches Under 3000 With Calling
IQOO Z6 Lite 5G Full Specifications
IQOO Z6 Lite Display:
The 6.58-inch, 120Hz LCD screen of the iQOO Z6 Lite 5G has a 401ppi pixel density and a resolution of 1080 x 2408 pixels. Additionally, it boasts a touch sampling rate of 240Hz and a pick brightness of 460 nits.
If you're wondering why this smartphone seems so similar to others, it's because iQOO recently replicated the design of the iQOO Z6 5G.
Everything from display to construction is the same as iQOO Z6 5G.
Given that the phone's LCD panel prevents it from having an in-display fingerprint sensor, IQOO put the sensor on the right side of the device instead.
The fingerprint sensor operates as a typical side-mounted fingerprint sensor, which means it is quick and accurate.
Here is the 2019 return,
The IQOO Z6 Lite 5G has a distinctive waterdrop notch, which is not at all attractive. IQOO should have chosen a punch hole,
but they didn't want to put any effort into it, so they utilised the design they already had instead, which allowed them to make a little financial saving.
The screen brightness might have been improved, since it may occasionally be challenging to read small writing when using a smartphone outside. IQOO Z6 Lite 5G Review
The iQOO Z6 Lite 5G's LCD display is decent, but it might be better. IQOO Z6 Lite 5G Review
IQOO Z6 Lite Performance:
Let's discuss this as it will be the iQOO Z6 Lite 5G's selling point.
As I mentioned, the Snapdragon 4 Gen 1 is 15% quicker on the CPU and 10% more powerful on the GPU than the Snapdragon 480+. Additionally, it has a 6nm design, making it a power-efficient CPU.
Games like Apex Legends, COD Mobile, and PUBG New State will be playable at 50 frames per second. While playing, I didn't notice any frame drops, but if you play for a while, you'll undoubtedly see them now and again.
The Fun Touch OS was operating without any issues even while I was using a smartphone for daily tasks, such as reading through Instagram or YouTube or watching movies.
Additionally, IQOO has pledged to provide 3 years of security patches and 2 years of OS upgrades. IQOO Z6 Lite 5G Review
The tablet comes with a full load of bloatware that can be removed, but even after spending Rs 13999, you still have to deal with it.
urban areas with good connection. IQOO Z6 Lite 5G Review
In conclusion, the recently released iQOO Z6 Lite 5G should be taken into consideration if you're looking for a 5G smartphone for less than Rs 15000 and don't worry too much about the Fun Touch OS.
Once more, Snapdragon 4 Gen 1 is a CPU that uses less power.
IQOO Z6 Lite Camera:
A 50MP main sensor, a 2MP depth sensor, and an 8MP selfie camera are all included on the iQOO Z6 Lite 5G. The front and back cameras can both record videos in [email protected]/60fps. IQOO Z6 Lite 5G Review
The night mode is only available on the 6GB RAM + 128GB storage model; it is not available on the 4GB RAM + 64GB storage variant for some reason. It also lacks OIS.
Permitted, let's take out the 2MP depth sensor and discuss the 50MP main sensor. IQOO Z6 Lite 5G Review
Now, the 50MP sensor did capture photographs with acceptable quality in well-lit conditions; the dynamic range was also passable, and the details were present. The sensor is making an effort to retouch and enhance the photographs. IQOO Z6 Lite 5G Review
Even if the night mode is working as intended, photographs in dim light still exhibited noise, and the colours were oversaturated, exactly as on Vivo devices. IQOO Z6 Lite 5G Review
Yes, an OTA update might enhance the sensor, but it depends on iQOO, so we'll have to wait and see. IQOO Z6 Lite 5G Review
With the hybrid SIM card slot on the iQOO Z6 Lite 5G, you may either use two SIM cards or one SIM plus an SD card for the microphone.
The 8MP selfie camera was okay; it captures white photographs, so you don't even need to use a filter to upload them to Instagram. 
As I've already mentioned, the iQOO Z6 Lite 5G's cameras aren't the best, but they're not the best either. When there, they can be used. IQOO Z6 Lite 5G Review
Due to its reliance on EIS and what appears to be inadequate video optimization by IQOO, the videos don't produce reliable results. IQOO Z6 Lite 5G Review Therefore, if you're shooting videos, stroll instead of running quickly so that the recordings will seem excellent in ideal lighting.
Overall, the cameras are not the greatest or the worst; nonetheless, they are usable in decent lighting. iQOO should have included an ultra-wide lens.
IQOO Z6 Lite Audio:
The single bottom speaker of the IQOO Z6 Lite 5G does function, but it is only one speaker and there are no stereo speakers.
Although the single speaker on this 5G smartphone isn't all that great, you will occasionally have to make concessions. IQOO Z6 Lite 5G Review
Nearly all 5G smartphones priced under Rs. 15,000 lack quicker charging, stereo speakers, punch-hole displays, metal frames, and high-quality cameras. IQOO Z6 Lite 5G Review As a result, in order to obtain something, you must make a compromise.
Although carrier aggregation is supported, it lacks a second noise-cancelling microphone.
Yes, since this is a low-cost smartphone, IQOO has included a 3.5mm audio jack. IQOO Z6 Lite 5G Review
Overall, the sound quality is acceptable, and the call quality is also satisfactory.
IQOO Z6 Lite Battery:
The 5,000 mAh battery of the IQOO Z6 Lite 5G supports 18W charging. The 18W charger will charge from 0% to 100% in around 2 hours.
The nice message from iQOO is that there isn't a charger in the package; go purchase one or use whatever you have at home. IQOO Z6 Lite 5G Review
Overall, the CPU should let the battery to last all day, but ultimately, how you use your smartphone each day will determine how long it will survive.
Now, I would have preferred a 30W charging speed, but IQOO made a cost-saving decision here as well.
Also read : Business ideas in hindi
Disclaimer: We cannot guarantee that the information on this website is completely correct. Because our website "Mobile Gyans" strives to keep up with the latest mobile news.