Everthing you need to know about fitbit Charge 6: The long-awaited Fitbit Charge 6 is now ready to be used by fitness enthusiasts from October 12, 2023. The company has made an announcement that pre-orders for Fitbit Charge 6 have been started from September 28, 2023, while it will be available to third-party vendors and Fitbit in October. 
As compared to charge 5, the latest charge 6 has included many familiar features with enhancement along with the most hyped feature of "Google integration".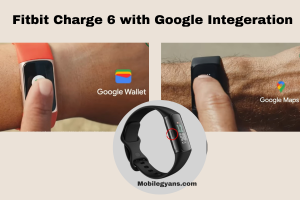 In the Fitbit Charge 6, built-in Google made it the most popular fitness tracker aimed at elevating the user's experience.
With the announcement of a new fitness tracker, many customers are thinking of upgrading their devices to the Fitbit Charge 6. In today's article, you will find all the necessary information about the latest fitness tracker, including price, release date, water resistance capacity, compatibility, and much more.
Release Date of Fitbit Charge 6 
Pre-orders for the Fitbit Charge 6 have started from 28 September 2023 while the company has announced that from 12 October 2023, it will be available in the market from Fitbit and third-party vendors. 
Also read :Smartwatches Under 3000 With Calling
"Infinity" band is used as a standard band with charge 6 and for workout or all-day wear, a new Ocean woven sports band has been released. 
Color Options availability in Fitbit Charge 6
For customers looking for Fitbit Charge 6, three color variations are available- silver/white, black, and champagne gold/coral.
Price of Latest Fitbit charge 6 
Currently, the cost of Fitbit Charge 6 is $159.95. If we compare it with the price of the Fitbit Charge 5, then it is cheaper by $20.
The price will include 6 months of Fitbit premium membership from which you can access a detailed matrix of your fitness like daily readiness score.
Fitbit Charge 6 Features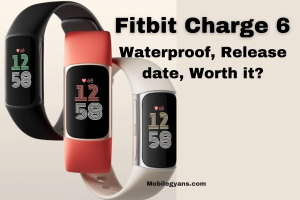 The most awaited feature of Google built-in has revolutionized the number of activities one can perform using a fitness tracker.
With the help of the Fitbit Charge 6, you can access Google apps directly from the watch which is similar to features available on the Google Pixel watch. Now you can check your running routine with the help of the Google Maps tool and can even make payments from Google Pay. 
Another enhancement feature is the haptic feedback button which was not present in the Fitbit Charge 5. Also, a side button is now available in this fitness tracker which will help you to navigate the watch without the use of the touch screen. 
The fitness tracking accuracy rate for the heart rate sensor is now 60% higher as compared to previous models of the Fitbit Charge. Other features include a red and Infrared sensor for SpO2 monitoring, EDA and ECG scan, skin temperature sensor, and built-in GPS. 
The number of exercise modes for fitness tracking has been increased by 20 in the Fitbit Charge 6, which includes CrossFit, surfing, HIIT, skiing, and much more.
With new features and increased accuracy, charge 6 can be used as an external monitor for heart rate on gym equipment.  
The company has announced that they are working on adding more partners to pair with Charge 6 while currently, users can pair Fitbit Charge 6 with NordicTrack, Peloton, and Tonal devices. 
Is fit bit charge 6 waterproof for swimming or shower
For a fitness tracker device, it is obvious to be water resistant, especially for recording water-based workouts. 
In the Fitbit charge 6, water resistance capacity is up to 50 m water depth(approx 160 feet) or 5ATM. It is based on atmosphere or ATM which in simple words means the amount of pressure the device can handle and convert that value in meters. 
SmartTrack with Fitbit charge will automatically register the starting of a workout including swimming activities.
Now the question is what if you want to go Deeper with a Fitbit Charge 6? 
The company has clearly mentioned the 50 m of water resistance capacity for the Fitbit charge 6. If you go beyond that level then it can risk the damage of the inner mechanics of your fitness tracker.
How to dry Fitbit Charge 6 when it gets wet
Although it is mentioned by Fitbit that the Charge 6 can stand in water levels up to 50 m but that doesn't mean you should keep it wet. 
In order to dry the Fitbit Charge 6 after any water-related activity, first gently shake it off so that access water can be removed especially through unexpected cracks or damage. Then using a dry microfiber cloth, pat down the fitness tracker and put it aside to dry in the air.
You don't need to use that popular hack to dry off electronic devices using rice. 
Is Fitbit Charge 6 Sweat Proof 
It is obvious to expect that while doing high-intensity workouts wearing a fitness tracker, your sweat level will wet the charge 6. 
Yes, Fitbit Charge 6 is sweat-proof as long as it is not summer in water levels more than 50 m. 
Is the Fitbit fitness tracker compatible with the iPhone
Currently, the Fitbit fitness tracker or smartwatch is compatible with all the models of iPhones having iOS 15 or higher. So yes, if you are buying the Fitbit Charge 6 then it will definitely run with the iPhone using the Bluetooth & Google account of Fitbit app. 
Fitbit apps for iPhone and Android are the same on both platforms with identical functionality. 
Does Fitbit come with charger?
Yes, Fitbit fitness tracker or smartwatch comes with a band and a charger cable. In a recent update from the Fitbit community, it is informed that the current Fitbit program will no longer work from October and newer devices will be more tied into phones. 
Usually, Fitbit devices require 1 to 2 hours to reach 100% battery level. 
There are four ways by which you can charge a Fitbit fitness tracker or Smart Watch: by connecting a computer or laptop, connecting to a wall charger, using a charging cradle, and using a power bank.
What percentage should you charge your Fitbit?
There is not a fixed number of percent for charging your Fitbit. It is recommended to charge your Fitbit fitness tracker when it is below 15%. The advisable percentage for charging Fitbit is to keep it at least above 50% in case of any emergency. 
Is Fitbit premium worth it?
While buying the latest with the Fitbit Charge 6, you will get free access to 6 months of the Fitbit premium membership. Now the question is: Is Fitbit membership worth it? 
With a premium Fitbit membership, you will get access to more advanced writing insights such as:
detailed workout details

access to an on-demand workout library with popular trainers like Les Mills, Daily Burn, and barre3

access to over 200 mindfulness sessions with apps like Calm

Range of healthy recipes with filter options on the basis of gluten-free, diabetes-friendly, Low calorie, etc. 

Health challenges to keep yourself accountable where you can compete virtually.

Advanced sleep tracking details like stages of sleep, heart rate, etc. 

Latest feature of the daily readiness score which is decided on the basis of workout, heart rate variability, and quality of sleep.
The price of Fitbit premium is $10. If you feel this price is affordable in your budget then it is a great option to buy Fitbit premium. Otherwise, you can get a 90-day free trial to track your well-being. According to the latest Fitbit premium subscription 2023 update, there is no need for a subscription to see your historical data. 
Suppose you can't afford the monthly premium of $10 for a monthly membership. In that case, you can still get quite useful data from the Fitbit tracker and simultaneously can use other free apps to track the rest premium activities data.
FAQ Related to Fitbit Charge 6
Should I get an Apple watch or a Fitbit?
Apple Watch and Fitbit Fitness Tracker offers great quality wearables but when it comes to budget-friendly fitness tracker Fitbit gets an edge. If you have no issue with price then the Apple watch is the best option in terms of accuracy, extra features, and convenience. 
How accurate is Fitbit charge 6?
Claims from the company have been made that there has been an improvement in the accuracy of the Fitbit with the launch of the Fitbit Charge 6. According to official information, Fitbit Charge 6 is 60% more accurate with regard to heart rate sensors than previous trackers. 
Also read: Top 5 Advantages And Disadvantages Of Smartwatches
Disclaimer: We cannot guarantee that the information on this website is completely correct. Because our website "Mobile Gyans" strives to keep up with the latest mobile news.