Top 10 Best Fast Chargers, In the last few days, the mobile company has done a lot of work on Mobile Charging Speed, where earlier it used to take a lot of time to charge a mobile, now you can fully charge your mobile in less than 1 hour only.
Also read : 5 Best Mobile Phones Under Rs 40000 in India
If the Fast Charger of your mobile goes bad and you will go to buy another Original Charger. So its price is said to be very high, instead of the same charger, you can also buy other fast charger, we have told you about Top 10 Fast Charger here.
We have also included Type C, Micro USB Charger and iPhone Charger in our list of Best Fast Charger. If you want to buy these chargers, then the links of all of them have also been given from which you can directly reach its page.
What does Fast Charger mean?
Friends, as you must be knowing by reading its name that Fast Charger means this, the charger with the help of which your mobile can be charged very fast is called Fast Charger.
But some people make this mistake that they buy Fast Charger from the market and charge their phone, while you first have to check how fast your mobile supports Charging Support.
As some mobiles have only 18W Charging Support, some mobiles have 65W charging support, now you have to see which charging your mobile is able to support.
Top 10 Best Fast Chargers
If you will charge your mobile with 65W Charger, while your mobile supports only up to 18W, then in such a situation your mobile battery can also be bad.
That is why you should buy a mobile charger after thinking carefully, if you do not have much information about them, then read this post of ours, in which all the things about charging have been told.
1. MIFKRT 30W 5V/4A VOOC Charger
It is not necessary that only those mobiles which have Type C ports support fast charging, there were some mobiles which had Micro USB port and they used to support fast charging such as Realme 3 Pro.
If you are also looking for a Best VOOC Charger for your mobile, then you can buy this charger, I have used this charger myself, it works very well.
In this, you get 30 watts of charging and using its power you can also transfer data from your computer or laptop.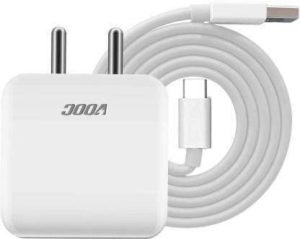 2. Syska 10 W 2 A Mobile WC-2A
You must know very well about this company that it manufactures electronic products, at the moment they have started making mobile chargers as well. If you need a good Micro USB Charger then you can buy it.
It supports 10 watts of charging and the USB cable that is provided with it. It is of 1 meter, it is made for all your Android mobiles, in which Micro USB Charger was given.
Messages are slowly getting closed, instead of them, now you will see only Type C charging port in all Android mobiles.

3. Oraimo 18W USB & Type-C
This is your 18W Fast Charger from Oraimo Company, if you want a charging adapter in which two mobiles can be charged simultaneously, then you can buy this charger for that.
In this, you will get Charing Speed ​​very good as well as you will be able to charge your two mobiles simultaneously, you will find this charger on Amazon website.
Which if you do not like it even after using it, then you can change it within 7 days.
When you will charge two mobiles simultaneously, at that time the charging speed decreases slightly, because you are charging two mobiles simultaneously.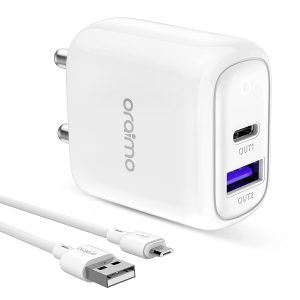 4. PD Charger for iPhone Original 20W
If you are an iPhone user, then you will know very well that iPhone chargers are not so easily available in the market, and the chargers that are available, their price is very high.
If you need a cheap fast charger for your iPhone then you can take a look at this 20W Poly iPhone Fast Charger. Top 10 Best Fast Chargers It takes only 30 minutes to charge iPhone 12 to 50 percent.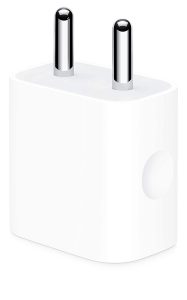 This charger will be perfect for all the mobiles and tablets of Apple and along with this you are given both the charging adapter and cable. Top 10 Best Fast Chargers
You can order it online and order it at your home, along with it you will also be given a warranty of 6 months, if there is any problem with the charger, then you can talk to their technical team for that.
5. Mi Super Fast Charger 67W
Mi is being recognized by the name of its fast charging these days, they have launched many of their smartphones, in which you can fully charge that mobile within just 45 minutes. Top 10 Best Fast Chargers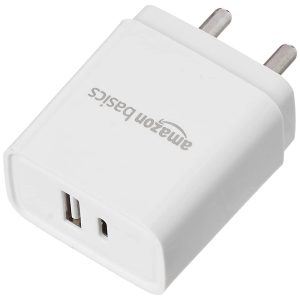 So the charger is made only for that type of Mi Smartphones, Top 10 Best Fast Chargers if you want to buy it, Top 10 Best Fast Chargers then you can buy it from Amazon's website.
6. TROST 6 A Mobile 65W SUPER VOOC
If your Oneplus Mobile charger is damaged, then you can use this charger instead, it looks exactly like the original charger.
If your mobile is able to support 65W charging, Top 10 Best Fast Chargers then you can buy it. You will find it on Flipkart, Jio supports 6 amps charging.
In just ₹ 699, you are given both adapter and USB cable, which can cost more or less, it supports all these devices like Oppo, Vivo, Realme, Mi, Oneplus.
If your mobile also supports 65W Charging and Type C, then you can buy it, its build quality is also very good. Top 10 Best Fast Chargers
7. FLiX Storm QC 3.0
Many times it happens that we have to go out somewhere and by mistake we forget our mobile charger at home, in this situation, instead of buying again from the new year, you can buy this cheapest Fast Charger. Huh.
The special thing about this charger is that you get it at a low price and also fast charge the mobile, Top 10 Best Fast Chargers with this you can charge 18 watts.
It also protects against things like short circuit and overcurrent and many times the charger gets damaged due to overload, so problems like this will not happen with this charger.
Just the build quality of this charger is not like the rest of the charger, that is why we have placed it at the sixth place in our list of Best Fast Charger.
8.Amazon Basics 18W Dual Port
In some cases the USB cable is fine but its charging adapter gets damaged, now you need a new Fast Charger. Top 10 Best Fast Chargers
In that case, you can buy this AmazonBasics Fast Charger, it offers 18W fast charging, with the help of which you can comfortably charge things like your smartphone, gaming console, Bluetooth speaker or headphones.
9.iPhone Charger 20W
Another iPhone Fast Charger is included in our list of this Best Fast Charger, we have added it to our list because it is a little cheaper charger than the first one, if your budget is a little less then you can buy it.
By the way, it was discussed that Charing Speed ​​is of 20 watts, if you charge your mobile with this charger for only 15 minutes, Top 10 Best Fast Chargers then you will be able to use your mobile for 4 hours comfortably.
It has been seen that it does 3 times three-four days than the original charger that was given with the iPhone.
10. QianLink 45W USB-C Charger
Type C to Type C USB Cable is used in all the Flagship Smartphones of Samsung, if you go to buy its original charger then you will get it very expensive. Top 10 Best Fast Chargers
This is a 45 Watt Fast Charger using which you can charge any of your USB Type C Device, Top 10 Best Fast Chargers using this charger you can fully charge your mobile in just 50 minutes.
With this, a USB cable is given, its length is 5 feet. So that even if the electric board is installed at a short distance in your house, you will be able to charge your mobile comfortably.
Conclusion:-
If you were looking for a Fast Charger for your mobile, then here we have told about some of the best Fast Charger for you. Top 10 Best Fast Chargers If you like any of these chargers, then you can get information about them.
We have found here for you some of the best chargers that have been rated well on Amazon and Flipkart websites. Top 10 Best Fast Chargers
I hope that you guys have liked this article written by us, Top 10 Best Fast Chargers you can also share it with your friends or if you have any question then you can ask by writing in the comment box below.
Also read : Business ideas in hindi
Disclaimer: We cannot guarantee that the information on this website is completely correct. Because our website "Mobile Gyans" strives to keep up with the latest mobile news.